13 best AI images generators
Article mis à jour le Tuesday, February 7, 2023.

Artificial intelligence is becoming an increasingly important part of our lives and you don't want to miss out!
With the latest advances in AI art generation, you can create photorealistic images from scratch, just with a few words.
You don't need to be an artist or even have technical skills to create spectacular images.
Today we discover together the best image generators that use artificial intelligence.
I tried all the best AI image generators and asked them to create images of a cat in space for me! I give you the result for each of them!
If you just want my ranking of the best image generators that use artificial intelligence, here it is in table form:

Jasper Art is an artificial intelligence image generator that uses the text provided to it to create digital art. The tool has several artistic styles to satisfy all your needs.
Jasper Art is a product of Jasper AI which is an artificial intelligence that can generate text such as blog posts. Jasper Art is as easy to use as Jasper AI, you give it text and it offers you several images.
The many styles Jasper Art offers allow you to generate ultra-realistic images or cartoon-like images from any other universe. Your imagination is the limit.
My experience with JasperArt
You will have to register to be able to generate images with Jasper Art.
If you just want to try the tool (which is still expensive), you can sign up and cancel your subscription within 5 days to pay nothing.
💡 I'm on Brave browser and I wasn't getting the confirmation code.
Then you will be able to create images with the configuration you want:
a mood: an emotion for your image
a medium : style of painting or art
an inspiration : you can choose an artist
a style : from surreal to animated, it's the theme of your images
keywords : it's the atmosphere of your image
a language : you can put french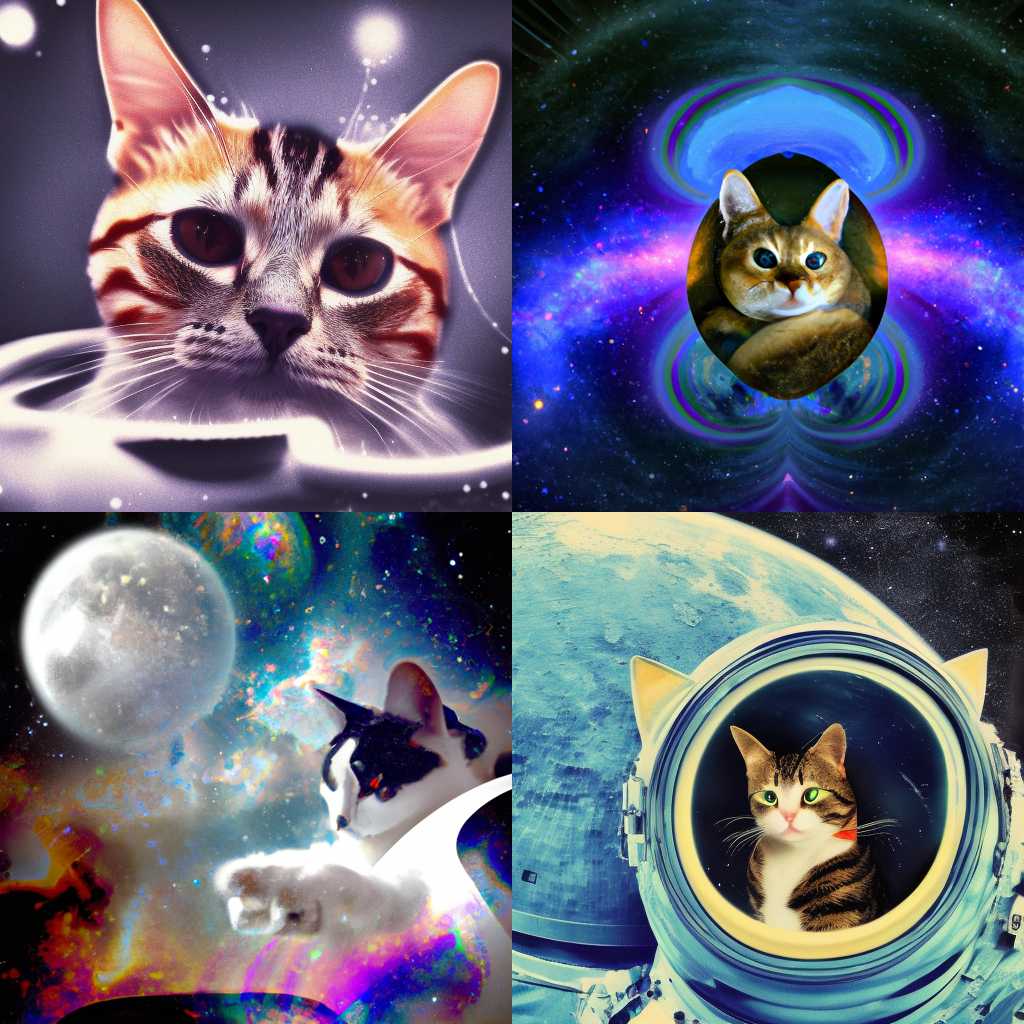 Why choose Jasper Art?
Create high quality images from simple text
Works in French
Great service and support
Jasper AI allows you to create text content
How much does Jasper Art cost?
Jasper Art starts at $20 per month (a little over 18 euros at the time of writing). No free trial version for Jasper Art (unlike Japser AI).

Nightcafe is one of the most popular AI art generators of the moment. The tool is said to have more algorithms and art generation features than other AI art generators.
NightCafe works with a credit system for creating digital art. The more credits you have, the more images you can generate. It is also possible to buy credits.
You can earn credits by participating in the community. Indeed, every day a challenge is given and you can participate to win credits.
My experience with NightCafe
No need to register with NightCafe, you can directly press the "Create" button and then choose :
a creation method** : this is the different algorithms of image generation that exist
a style** : NightCafe has its own style and you can also choose another theme according to your desires
Here is what NightCafe creates for me when I ask it to generate images of a cat in space with the NightCafe style and the Stable Diffusion creation method: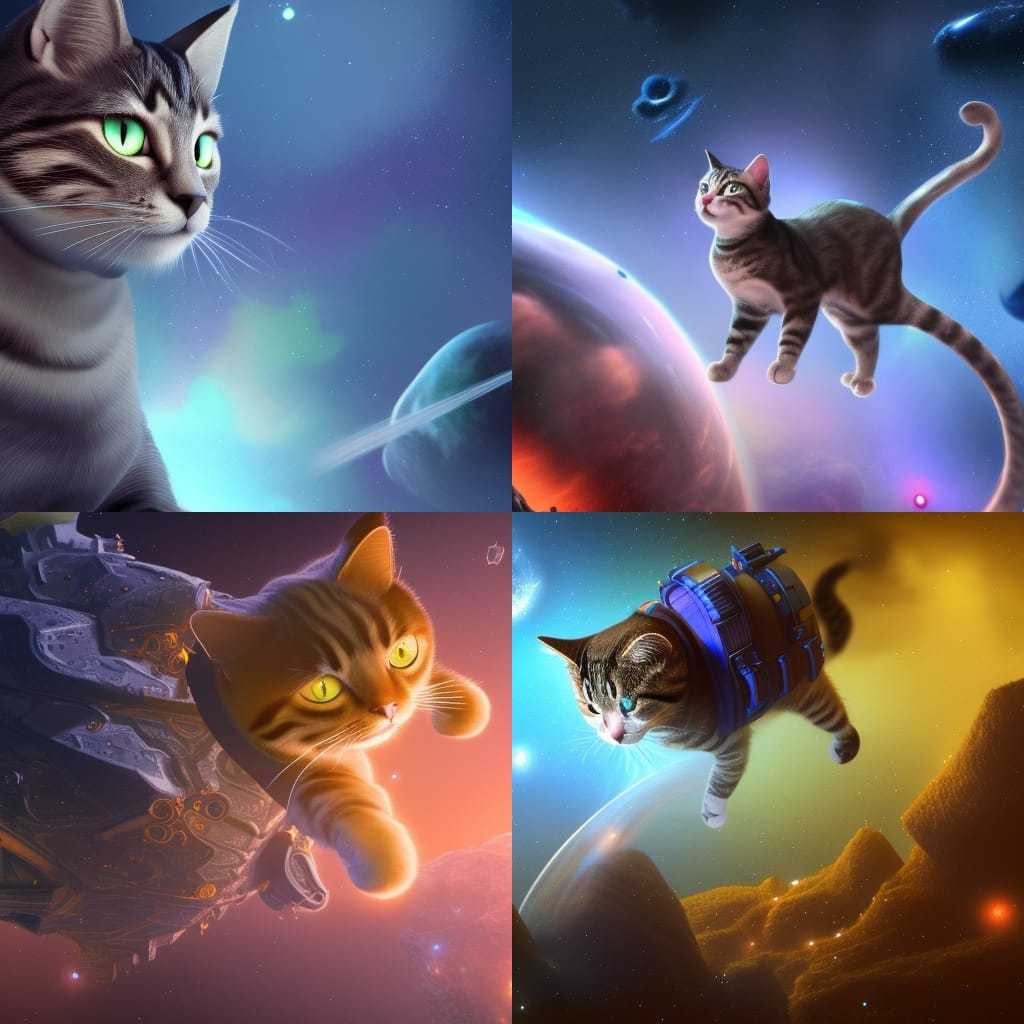 Why choose NightCafe?
NightCafe offers the best AI algo
Ability to buy prints of your images
Video generation
NightCafe offers a NSFW mode
How much does NightCafe cost?
NightCafe is free to try, you get 5 free credits every day.
NightCafe has several offers if you need more credits to create more images:
AI Hobbyist: $9.99/month for 200 credits/month or 1.6K+ images/month
AI Enthusiast: $19.99/month for 500 credits/month or 2.8K+ images/month
AI Artist: $49.99/month for 1400 credits/month or 6.4K+ images/month
AI Professional: $79.99/month for 2500 credits/month or 10K+ images/month
3. DALL·E 2

DALL-E 2 is an AI-based image generator with which you can generate realistic images from text or another image. The tool offers many editing and retouching options.
DALL-E 2 is an AI image generation model developed by OpenAI, Elon Musk's company that recently created ChatGTP.
💡 Want to learn more about ChatGPT? I've written a complete guide to ChatGPT to learn all about it and how to get even more out of it if you code!
Good news, you have access to DALL-E 2 if you signed up for GTP-3. I had registered for access to GTP-3 in 2021 and was accepted in a few days.
My experience with DALL-E 2
DALL-E is quite simple to use, you enter aussid detailed text as you want and then the tool offers you 4 images. You can edit or create other variations of an image (once generated) to get images that suit you even more!
The only difficulty with DALL-E is to have an account.
Here is what DALL-E creates for me when I ask it to generate images of a cat in space: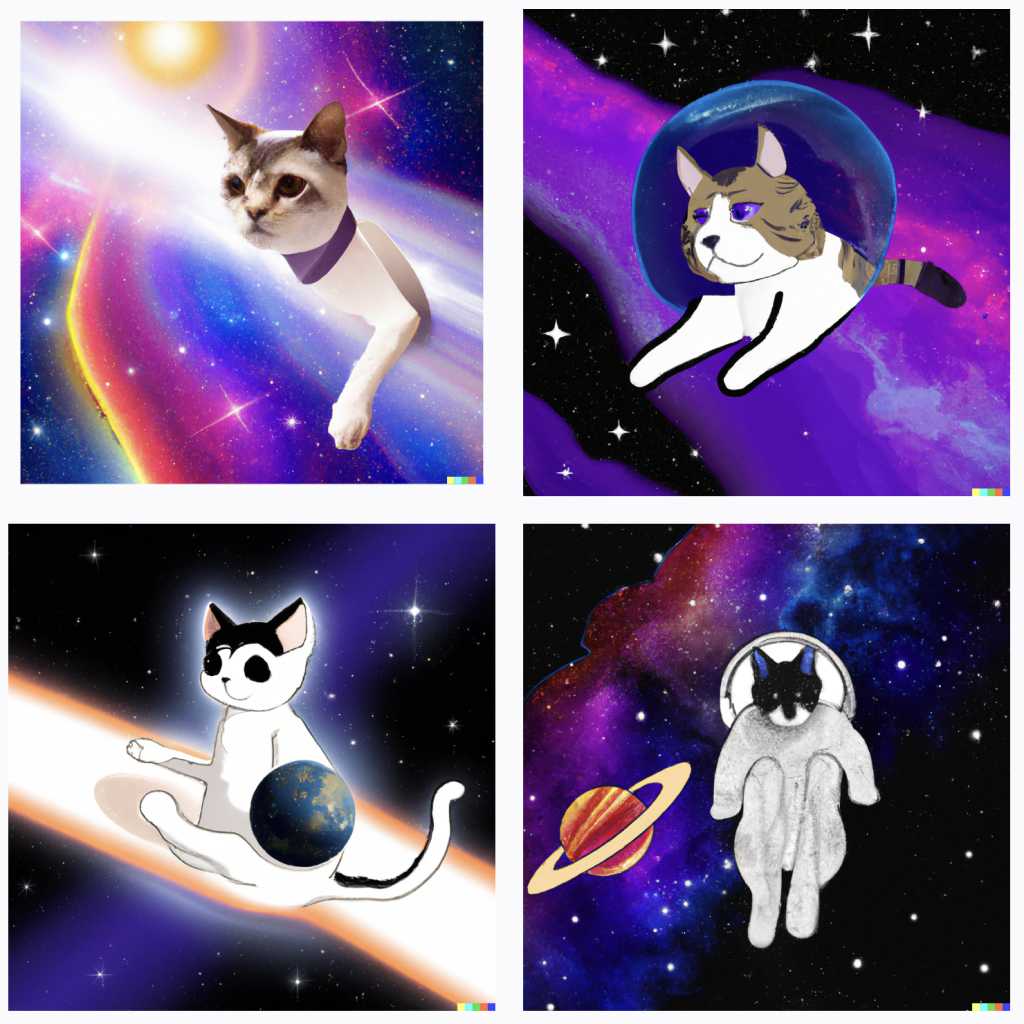 Why choose DALL-E 2?
Image generation from text
Generate images from another image
Production of multiple iterations of generated images
Editing and retouching functions
Free trial
How much does DALL-E 2 cost?
DALL-E offers a free trial if you are accepted in the waiting list. You will receive 50 credits for free. After that, you can buy credits for $15 for 115 credits (price for early 2023).
Join the waiting list to try DALL E 2
4. Stable Diffusion

Stable Diffusion uses the latest advances in AI technology to convert text into images. This AI art generator is created by an AI company called Stability AI.
This tool is one of the newest AI art generators on the market. The tool is completely free and can generate amazing quality images.
You can try the tool on the browser version very easily. All you have to do is to open its website and generate an image. Moreover, the license allows commercial and non-commercial use of the tool without any cost.
My experience with Stable Diffusion
Stable Diffusion offers 2 prompts:
the first one is to type what you want to appear in the image
the second is to say what you do NOT want to see in the image
The tool is easy to use and quite fast, you don't even need to create an account!
Here is what Stable Diffusion creates for me when I ask it to generate images of a cat in space: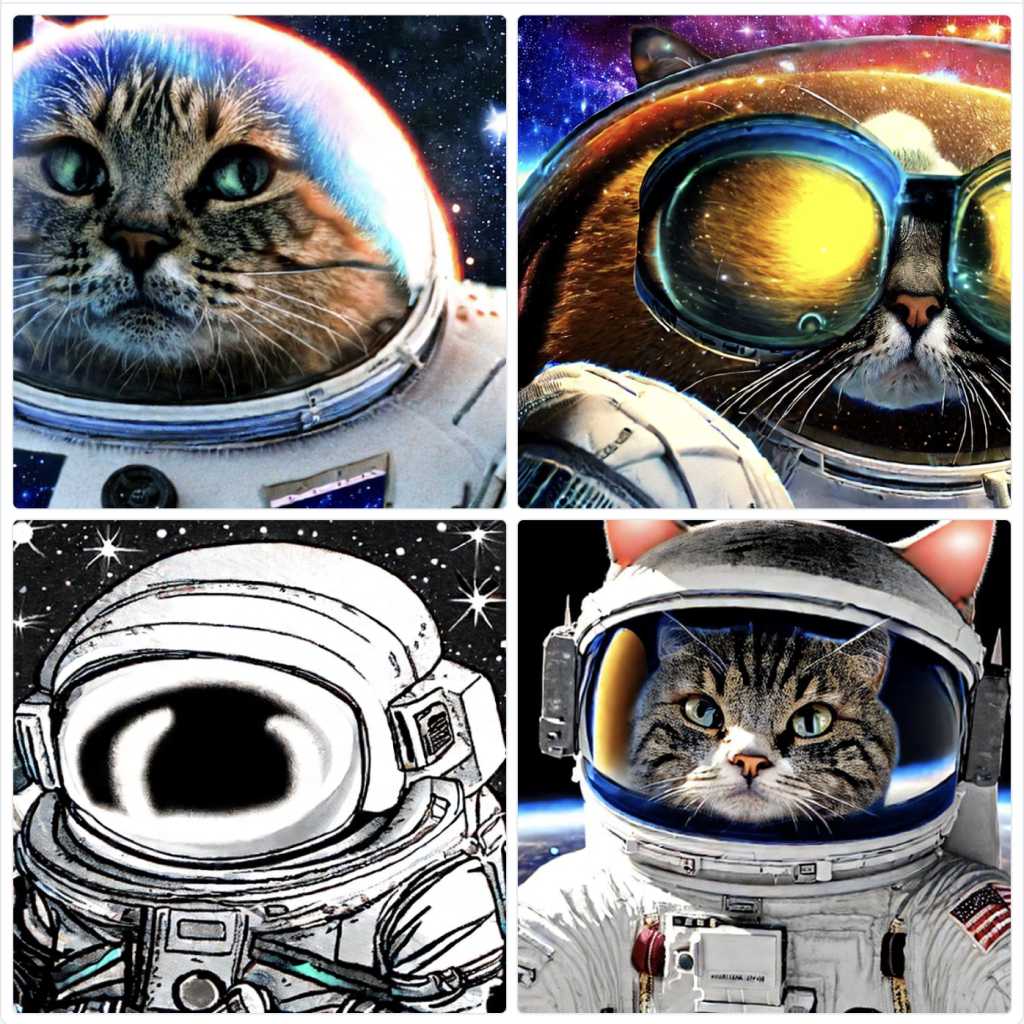 Why choose Stable Diffusion?
Creating images from text
Image creation from image
Easy to use
Suitable for developers
How much does Stable Diffusion cost?
Stable Diffusion AI Art Generator is free, you can try it here! If you are a developer, you can download the package and modify it as you want.
5. MidJourney

MidJourney is an AI art generator that works on Discord. The tool is easy to use and produces high quality images.
It is far from the bloated looking images of some AI image generators. You can find many examples in the different Discord channels or on this page. It's really amazing.
My experience with MidJourney
MidJourney is really easy to use, after registering on the site you will have access to their Discord.
Just type the command /imagine + what you want in one of the discord rooms and you will see your image with 4 variations appear!
Here is what MidJourney creates for me when I ask him to generate images of a cat in space: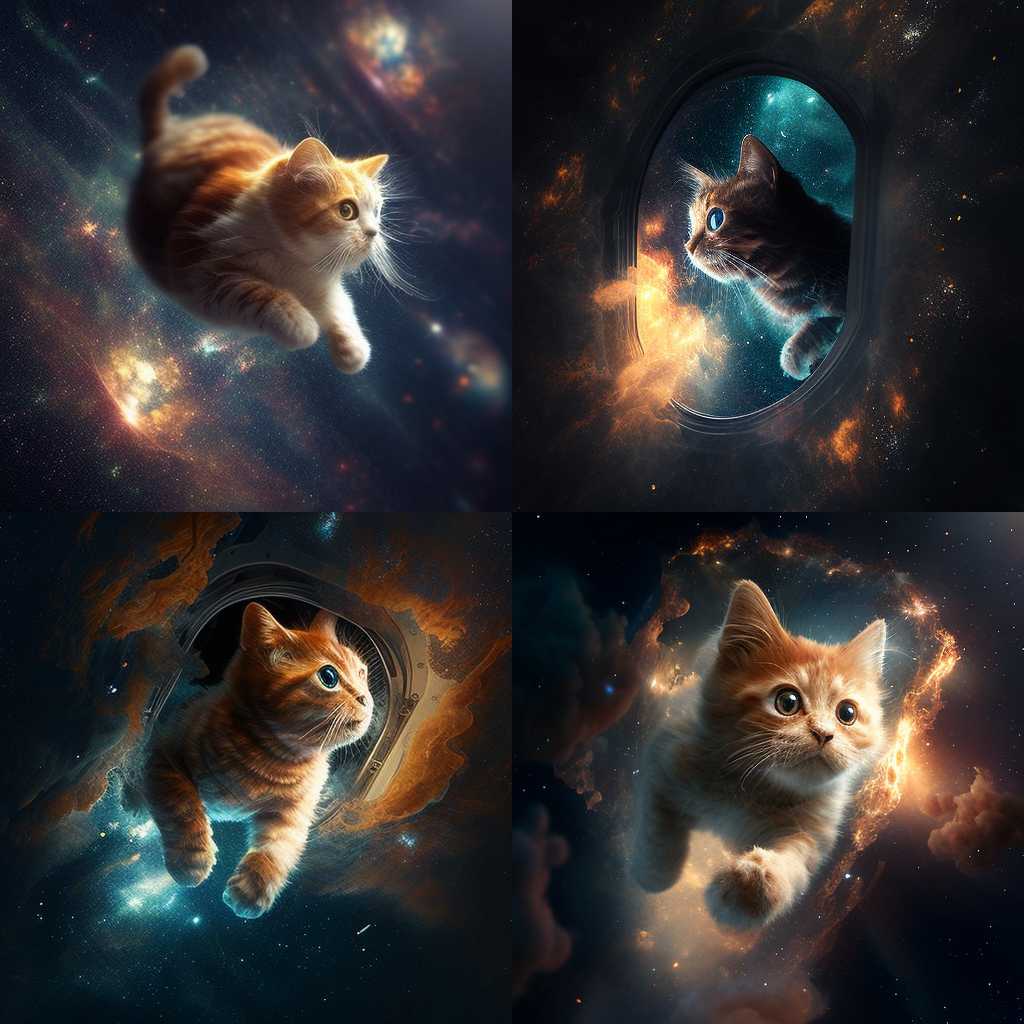 I think the results are really amazing, I really like the style!
Why choose MidJourney ?
Generate images from discord with a simple command (/imagine ...)
Free trial version (25 credits)
Easy to use
Incredible results, it's really art 😱
How much does MidJourney cost?
MidJourney offers 25 credits when you join their Discord. Once you link your discord account to the site (go to MidJourney's website and press Sign In), you will be able to sign up for a paid plan if you wish.
There are 3 plans available at the beginning of 2023:
The Basic Plan at US$8 (~€7.61) per month offers you ~200 image generations per month.
The Standard plan at 24$US (~22,75€) offers you an unlimited number of image generations with 15h of "fast generation".
The Pro plan at US$48 (~45,50€) offers you an unlimited number of image generations with 30h of "fast generation".
6. Fotor GoArt

You may already know Fotor. Fotor is a web-based image editing application like Canva or Photoshop but in the browser.
They launched a new product, GoArt, their artificial intelligence image generator recently.
The Chinese company's GoArt tool is completely free, although there are Pro and Pro+ modes.
Just go to Fotor GoArt's website, enter some text and press the "Generate" button and your art appears.
You can then edit and retouch your image directly with the Fotor tool.
Fotor GoArt defines itself as an NFT creation tool, did they want to ride the NFT wave or do they have a real integration project with NFT marketplaces? I didn't see any notion of NFT when I used Fotor GoArt.
My experience with Fotor GoArt
Registration with Fotor is mandatory but you can put a fake email address as there is no need to verify it. You will then be entitled to some free credits, here is what the "Chat in Space" prompt gives me: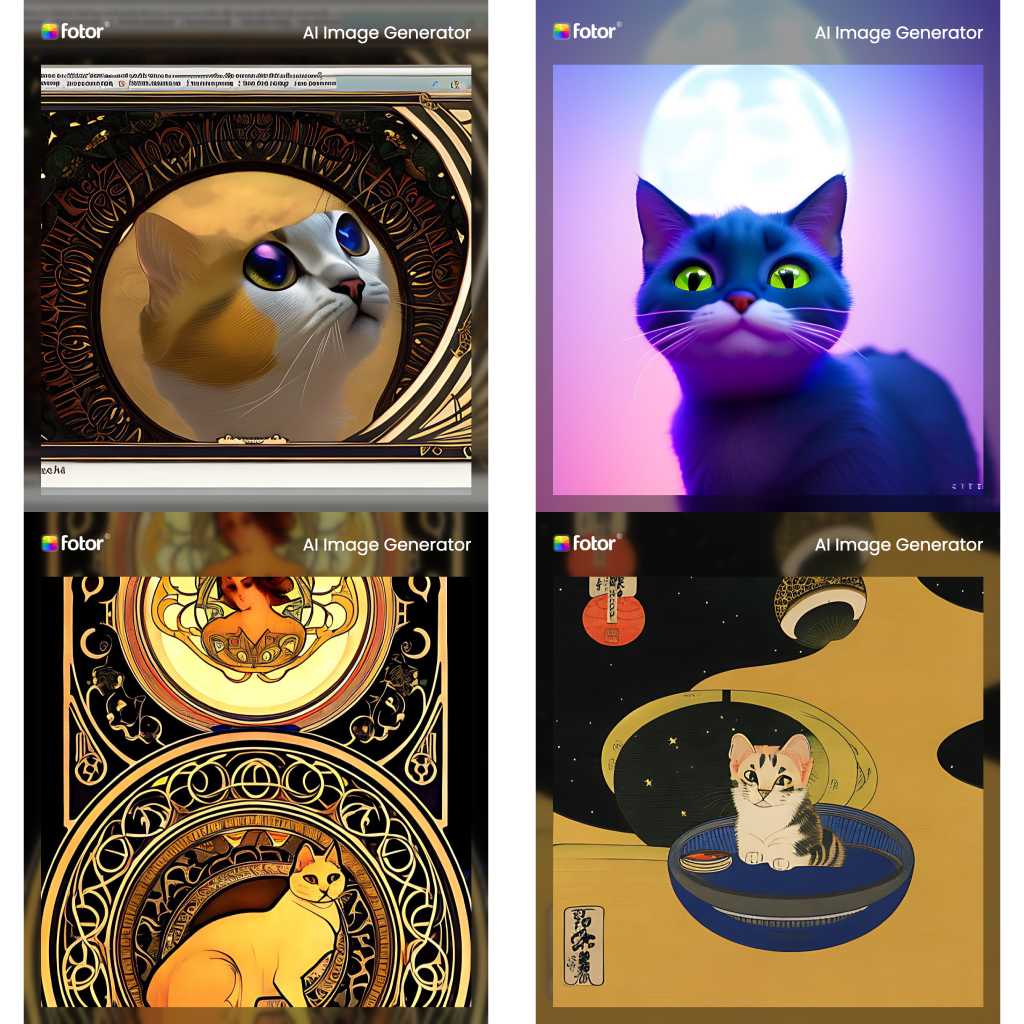 Why choose Fotor ?
10 free images per day
Text to image
Image to image
We take advantage of the Fotor tool to modify our images after
They talk about creating NFT
How much does Fotor cost?
You can try Fotor GoArt for free. At the time of writing this article, there is a Christmas offer and you get 10 free tokens per day.
Otherwise, you will have to pay for Fotor GoArt, you can start a free trial and then switch to a Pro or Pro+ package which also gives you access to Fotor in premium mode.
**The Pro mode gives you 200 credits that you can use every month **.
Fotor Basic : 0 $/month
Fotor Pro : 7.49€/month or 33.99€ per year
Fotor Pro+ : 16.99€/month or 74.99€ per year
7. Big Sleep
If you are a developer and you want to create automated images generated by artificial intelligence, then Big Sleep will surely interest you!
Be careful, you need a minimum of technical skills in Python to use Big Sleep. I strongly advise you against Big Sleep if you don't know how to use the terminal, tools like pip or Python in general.
My experience with Big Sleep
I then tried to run it by typing: dream "a cat in space" in my terminal. And I got the error:
CUDA must be available in order to use Big Sleep
I found a Github Issue that said to install PyTorch from the official website.
That's what I did and then it still didn't work on my MacBook Pro M1 😢
Why choose Big Sleep ?
Creating images from the terminal
The code is in Python
Open-source
How much does Big Sleep cost ?
Big Sleep is a project under MIT open source license. It is therefore free and its code is available on Github.
8. Artbreeder

Artbreeder (formerly Ganbreeder) is a machine learning (ia) tool for creating images. The tool allows to generate images but also to improve them using its artificial intelligence.
ArtBreeder is also used in the creation of video games as it can be used to create assets such as characters (NPC, non-player characters).
My experience with ArtBreeder
ArtBreeder is not the easiest tool to use 🤯
Once you have registered, you will need to go to "collage" by pressing the "+" button.
There you will already have images that will be taken into account in what you will ask it to generate.
I deleted everything and then I typed my "cat in space" prompt.
It generates a single image for you to save. Once saved, you will find it in your profile. You can ask for a high resolution link and finally download the image. A real obstacle course … or I didn't understand anything 😅
Here is what ArtBreeder creates for me when I ask it to generate images of a cat in space: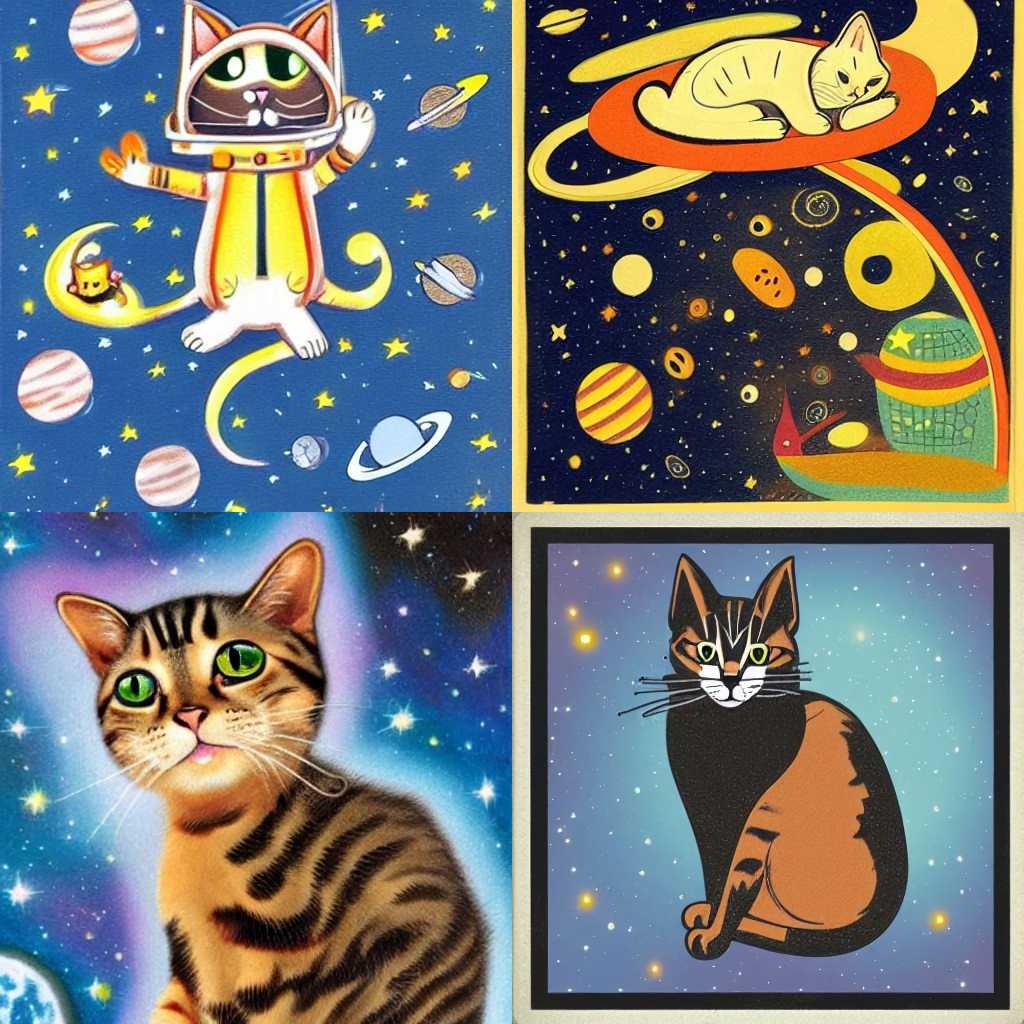 Why choose ArtBreeder?
Improve the quality of your images
Create animations, character heads and landscapes
ArtBreeder offers many variations on the images
How much does ArtBreeder cost?
ArtBreeder offers several plans, including a totally free plan.
The free plan offers unlimited image generation, 3 image uploads, 5 high definition downloads and 600 frames of video animations
The starter plan at 8.99$US per month offers unlimited image generation without waiting, 80 image uploads, 200 high definition downloads and 3000 frames of video animations and synchronization with Google Drive
The advanced plan at US$18.99 per month offers unlimited image generation without waiting, 300 image uploads, 800 high definition downloads and 10,000 frames of video animations and synchronization with Google Drive
The champion plan at US$38.99 per month offers unlimited image generation, no waiting, image uploads, high definition downloads and video animation frames. Plus you'll always have Google Drive synchronization and other extras.
9. Photosonic

Photosonic is an AI art generator that turns your imagination into digital art.
Like most AI image generators seen in this article, Photosonic allows you to generate images either by entering text or by uploading another image.
Photosonic supports many styles, so you can choose the style that best fits the world of what you are trying to create.
Photosonic is a versatile AI art generator, with which you will be able to convert an image into a painting, for example.
It is the company Writesonic that is behind the project, Writesonic is a bit what Jasper AI is to Jasper Art. Writesonic is backed by YCombinator!
The Writesonic tool is free to use on a trial basis, you will just have to register and you can test it before paying, if it suits you.
My experience with Photosonic
Photosonic is easy to use as it is just a prompt in which you type the description of your image.
You will still have to register to receive 10 credits.
You will be able to choose a style among :
Painting
Fantasy
Anime
3d
Cartoon
Sci-Fi
Photo
Illustration
Character
Cute
This is what Photosonic creates for me when I ask it to generate images of a cat in space with several styles: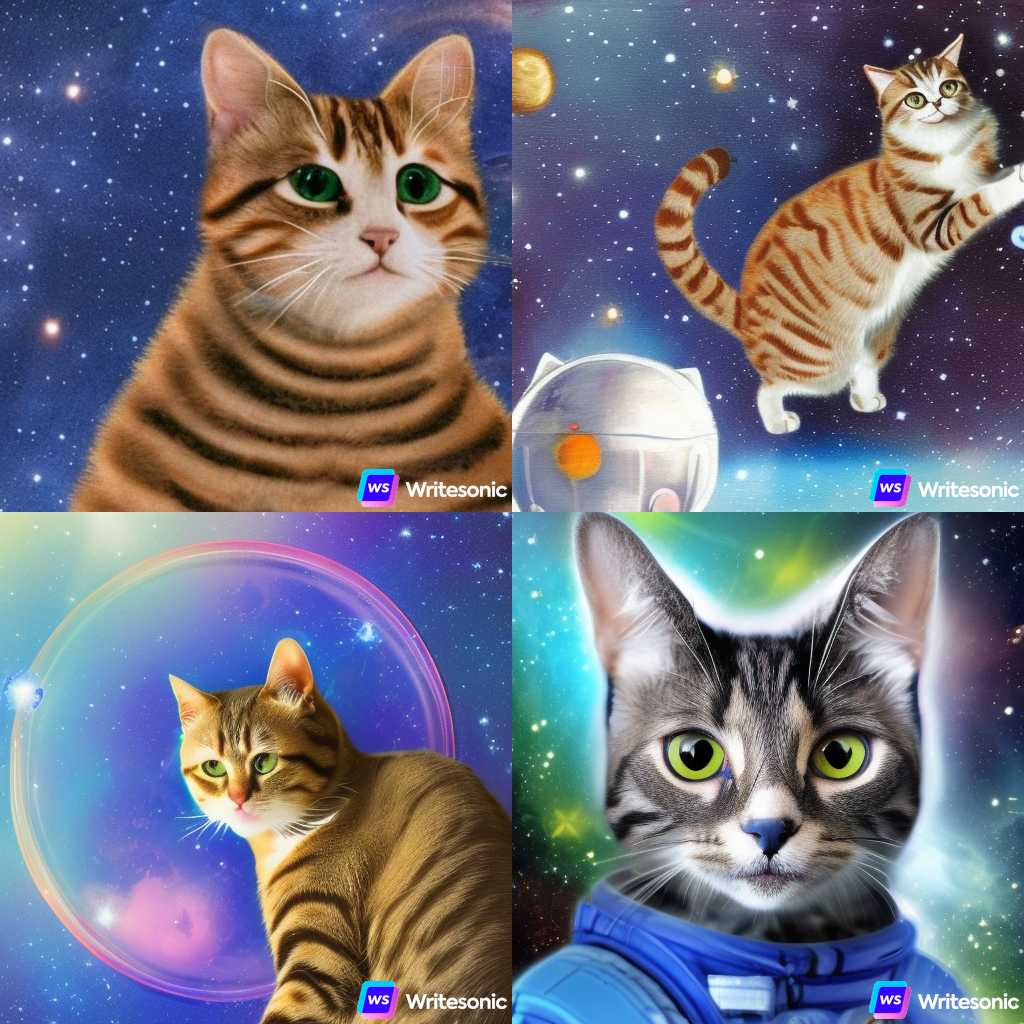 Why choose Photosonic?
Several artistic styles
Conversion of images into paintings
Easy to use interface
Free trial
How much does Photosonic cost?
There are three plans:
Free Trial: $0/month for 15 monthly credits
Basic: $10/month (~9.25€) for 100 monthly credits
Unlimited: $25/month (~23.20€) for an unlimited number of credits
10. Deep Dream Generator

Deep Dream Generator is a very powerful artificial intelligence image generation tool. The AI of Deep Dream has been trained with an artificial neural network composed of millions of images.
Deep Dream offers 3 types of image generation:
Text 2 Dream to generate images from text
Deep Style to combine two images into one
Deep Dream to create mutations on an image
My experience with Deep Dream Generator
After your registration and the verification of your email, you will receive 60 credits.
Go to "Generate" and you will see that you can configure your image in addition to the text on which you want to base your image.
Here is what Deep Dream Generator creates for me when I ask it to generate images of a cat in space: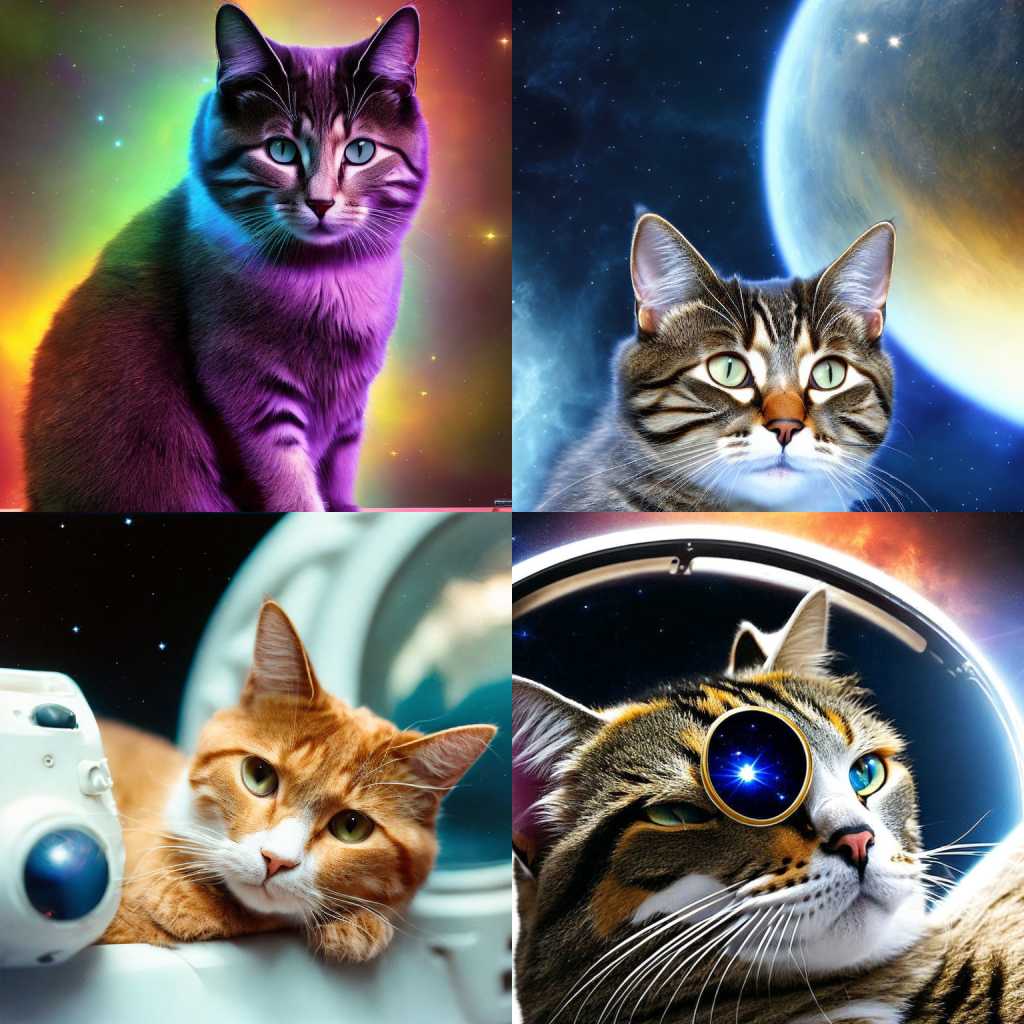 Why choose Deep Dream Generator ?
Creation of realistic images
Psychedelic images with Deep Dream
Trained on a neural network on millions of images
3 different image styles available
How much does Deep Dream Generator cost ?
Deep Dream works with an energy system. Your energy credits are spent according to the service you use (Text to image, image mix or image to image).
Advanced: $19/month (~17.60€) for 120 energy points + 12 points/hour
Professional: $39/month (~36.10€) for 250 energy points + 18 points/hour
Ultra: $99/month (~91.70€) for 750 energy points + 60 points/hour
You can also buy fixed credits without going through a subscription.
Here is a table of the energy usage on Deep Dream Generator :
| Resolution | Base | 1MP | 2MP | 5MP |
| --- | --- | --- | --- | --- |
| Text 2 Dream | 5 | 10 | 15 | 25 |
| Deep Style | 5 | 12 | 32 | 80 |
| Deep Dream | 2 | 4 | 8 | 20 |
11. DeepAI
DeepAI is a free artificial intelligence image creation tool. DeepAI offers an API for developers who want to automate their image generation.
My experience with DeepAI
No need to register with DeepAI!
Just go to the text-to-image creation page.
Then you can type your prompt, choose your style and press "Generate".
Your image appears!
Here is what DeepAI creates for me when I ask it to generate images of a cat in space: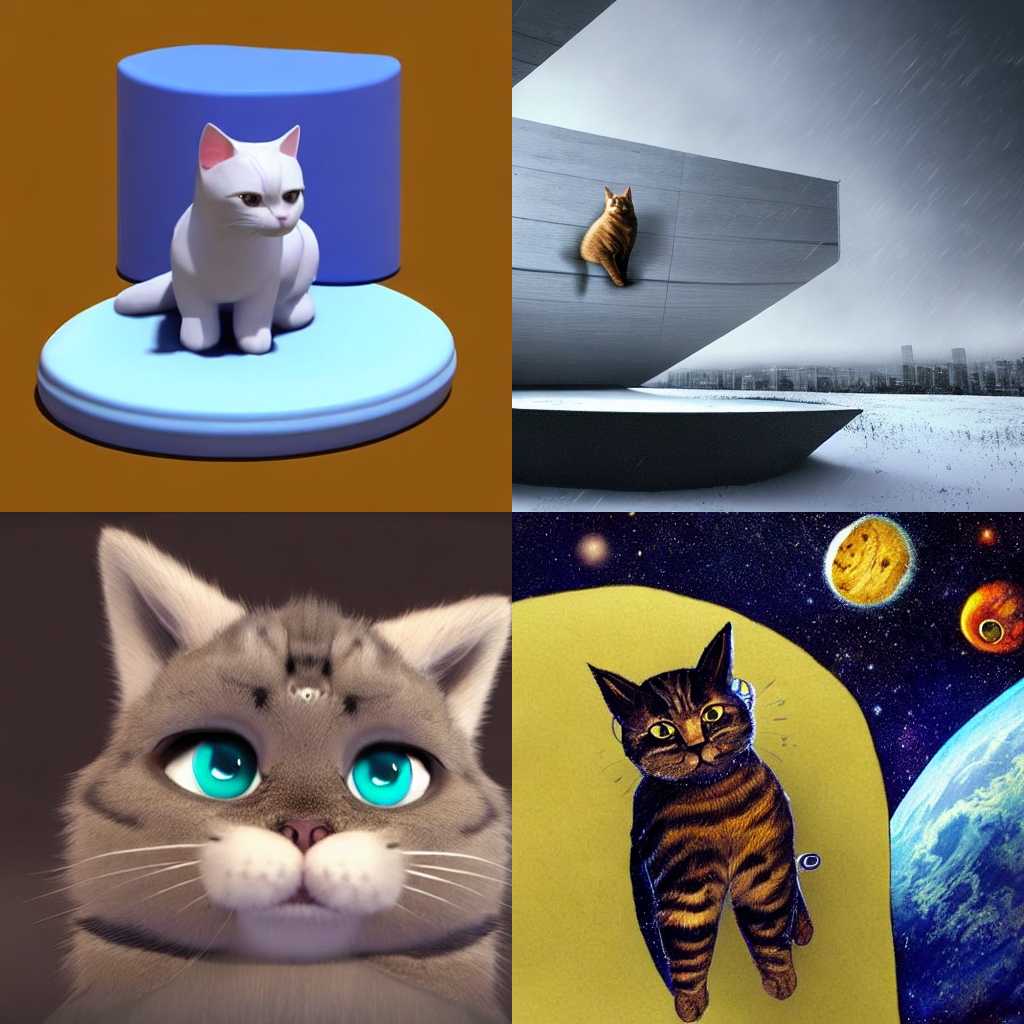 Why choose DeepAI?
How much does DeepAI cost?
DeepAI is free to use, but a "pro" mode exists for $4.99/month (~4.60€). The pro mode gives access to the API.
12. StarryAI

StarryAI is an AI art generator that offers NFT design. You will be able to create images that you turn into NFT and sell by owning the rights to sell.
StarryAI is available on iOS and Android or on the web and is free.
My experience with StarryAI
You will need to register on StarryAI to get 5 credits.
Then click on the "Create" button and choose your AI among 3 proposals:
I tried all 3, the image on the top left of my collage below was made with the ia "Altair", the ones on the right with "Argo" and the one on the bottom left with "Argo 2".
Here is what StarryAI creates for me when I ask it to generate images of a cat in space: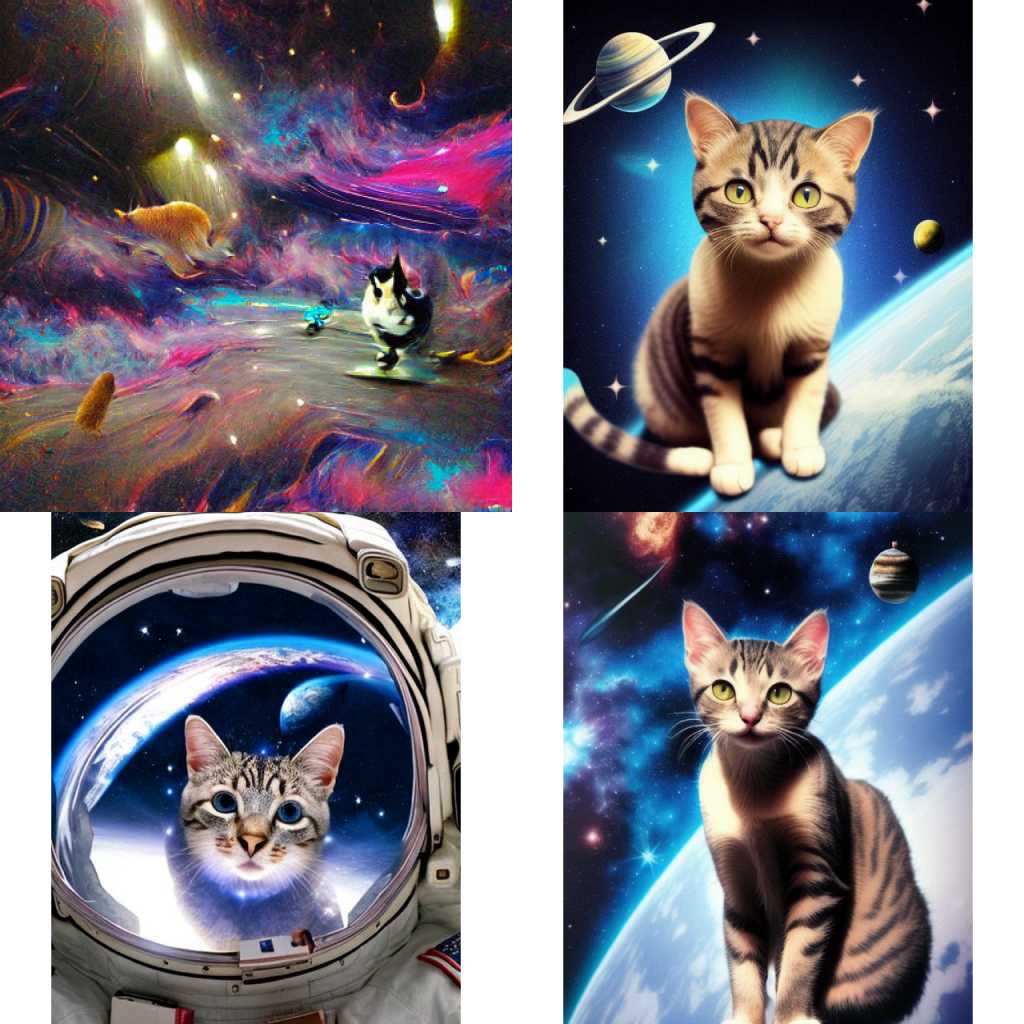 Why choose StarryAI ?
Text to image
Free creation of resellable NFTs
Generous free plan
How much does StarryAI cost?
StarryAI is free if you limit yourself to 25 images per day. You will be allowed to use the generated images for commercial purposes even with the free plan.
If you want to create more images, there is a pro plan for $39.99 per month (~37€).
If you just want more credits, you can buy them directly without going through the pro plan at these prices:
40 credits for $15.99 (~14.80€)
100 credits for $29.99 (~27.80€)
200 credits for $49.99 (~46.31€)
500 credits for $99.99 (~92.60€)
1000 credits for $149.99 (~138.95€)
13. RunwayML

RunwayML offers the creation of images from text but also the creation of small animated clips in addition to generating images from images.
RunwayML is therefore a particularly interesting choice if you want to create small animations thanks to intelligence and to edit your videos.
My experience with RunwayML
As we have seen, RunwayML is mainly used to create video. Its tool to create images from text is therefore a bit hidden.
You will first have to register on the site.
Then, you will have to go to AI Magic Tools and select the Text to Image tool.
Here is what RunwayML creates for me when I ask it to generate images of a cat in space: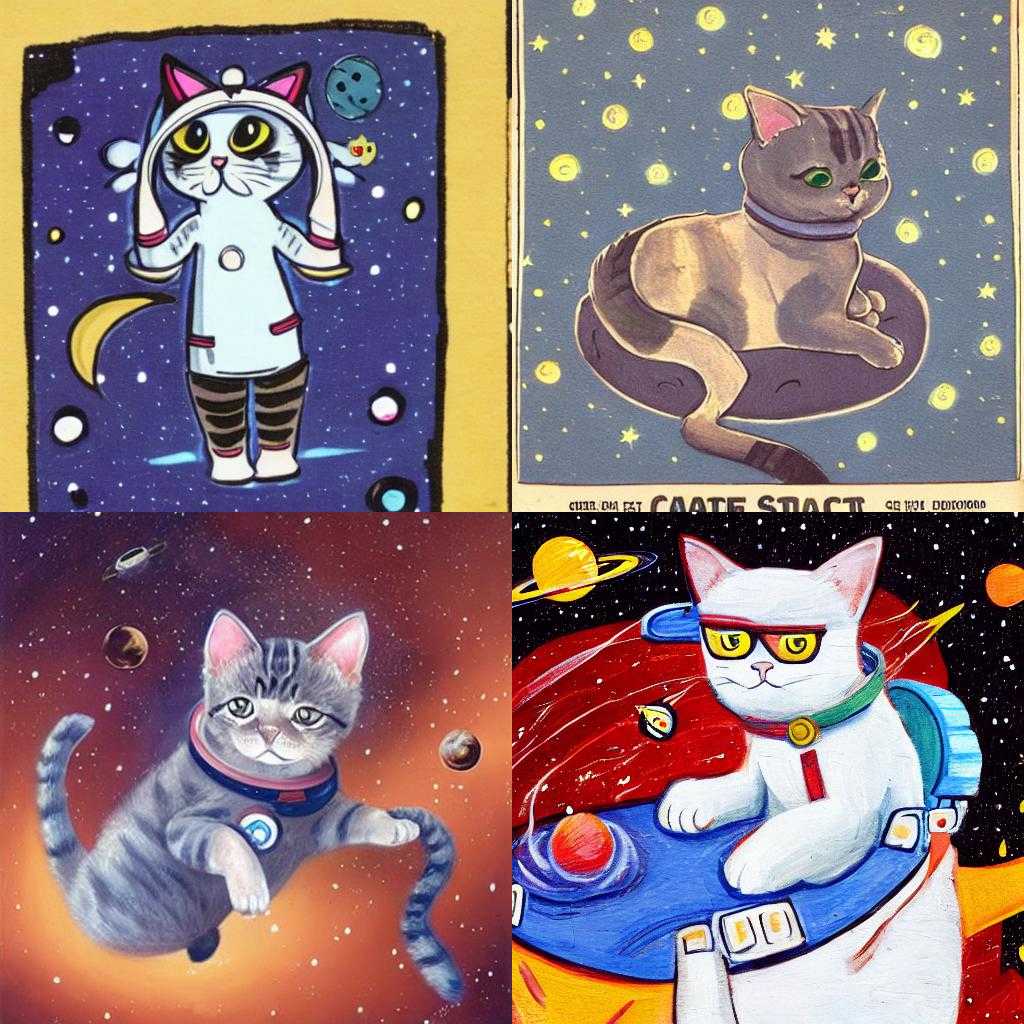 Why choose RunwayML?
Background removal tool
Creation of animations and 3D models
Video editing
Made for teamwork
How much does RunwayML cost?
RunwayML is free to use and there are 3 other paid plans depending on the number of users you have in the team:
Free** : $0/month
Pro** : 12 $/month
Team**: $28/month
Company** : you will have to contact them to know the price
FAQ about ia generators
I've been asked the same questions since I'm interested in artificial intelligence and more specifically in image generators.
Here are the questions that come up most often and the answer for each one.
What is an online AI image generator?
An online AI image generator is often a site where you have a text field in which you can describe an image. On some sites you can more or less configure your image.
How to create an image with an AI?
You will need to go to an online AI image generator to create an image with an artificial intelligence. You can also access these generators directly via APIs or via the template (like GPT-3) directly.
How do AI image generators work?
A text-based image generator often uses a machine learning technique called an artificial neural network. This is a process in which a lot of data is provided to an algorithm that will build itself like a human brain thanks to deep learning.
Are image generators free?
Some image generators are free, others are not. Free image generators are often limited in the number of images you can create, their creation time, your rights of use or the quality of the images.
Are the generated images free of rights?
Images generated by artificial intelligence may or may not be royalty free. It depends on the tool you use. You will find the license that defines your rights on the use of the images and other generated content.
Can AIs only generate abstract images?
No, some artificial intelligences can generate ultra-realistic images similar to photos. However, it is true that in early 2023, most of the images generated can be described as abstract, absurd or simply goofy.
Can we create NFTs with AI image generators?
Yes, some AI image generator tools like Fotor GoArt or StarryAI can create NFTs. These tools position themselves as NFT creators and encourage you to produce virtual art on their site.
Going further in artificial intelligence
Congratulations! Now you know which are the best artificial intelligence image generators!
Je m'appelle Thomas. Full-Stack Développeur et Blogger..